| | |
| --- | --- |
| Weight | 540 g |
| Dimensions | 15 × 15 × 25.5 cm |
Description
Immunity Bundle
Vegan. Paleo. Gluten-Free. GMO-Free. Aus Made.
mbK believes in nourishing the body and supporting it with the correct vitamins, minerals, nutrients, herbs and spices to reach its full potential. 
Support and defend your immune system with our Immunity Bundle! These three nutritionally formulated blends contain ingredients that are designed to support your immune system. Our Immunity Bundle contains our Chilli Hit, Garlic Infusion as well as our Turmeric blend. 
As we age, the immune system becomes a little less effective. This is due to a variety of reasons including reduced dietary intake, increased stress levels and increased exposure to chemicals and pollutants in our environment. Immune support can help to combat these factors, helping to keep your system functioning at its best! 
Our Chilli Hit contains Aji Amarillo chilli. The Aji Amarillo chilli is known to support the immune system with colds and flus, promote healthy cholesterol levels and boosts the body's metabolism. It helps to stimulate circulation and help control inflammation. 
Our Garlic Infusion contains garlic. Garlic contains compounds with strong medicinal properties that can bring a range of health benefits. Garlic is known to boost the function of the immune system by helping to prevent and decrease the severity of the common flu and cold also, increasing white blood cell production. 
Our Turmeric blend includes turmeric root and black pepper which both have anti-inflammatory properties that can also help support your immune system health. Supports and aid the absorption of curcumin. 
The perfect combination to support your mental and physical immunity and health! 
Ingredients
The mbK Immunity Bundle contains research-backed ingredients.
GARLIC INFUSION: mbK Kelp (82%), Dehydrated Granulated Garlic (10%) and Sea Salt.
CHILLI HIT: mbK Kelp (72%), Dried Ground Aji Amarillo Chilli (17%) and Sea Salt.
TURMERIC: mbK Kelp (88%), Dried Turmeric (4%), Black Pepper and Sea Salt.
DOES NOT CONTAIN: Gluten, Dairy, Lactose, Sugar, Wheat, Soy, Animal products, Artificial colours and Artificial flavours.
mbK products are vegan-friendly and made from 100% vegan ingredients. However, we recommend our products not be consumed by people with a shellfish allergy, as they may contain traces of crustacean.
♻︎ All mbK products are recyclable in your normal household recycling. We use glass, stainless steel, recyclable packaging and biodegradable cellophane to reduce packaging waste. Recycle your pods by choosing to refill your pods.
Directions
Simply add or sprinkle directly onto food. Our products can also be used for cooking, juicing and baking or left on the table as a healthy condiment.
Best consumed raw, as nutrients are retained by sprinkling product onto your dishes after your food has been cooked. We recommend that you use our products as a final layer of flavour on your food for the best nutritional boost.
Suitable for children and adults.
WHY SUPERFOODS?
Every person is familiar that they should eat plenty of fresh fruits and vegetables for optimal wellbeing and energy. However, 80% of people do not ingest sufficient amounts of vitamins and minerals each day! We totally understand, life can get hectic…
This is why we created functional superfood blends that infuse sea and land based superfoods synergistically together. All the different blends provide powerful, nutrient dense, harmonizing superfoods that are naturally high in vitamins and minerals. Save yourself money and time, and begin feeling your best a sprinkle at a time.
WARNINGS:
Please always consult with your health professional for healing advice for your unique health situation. Begin all dietary changes with small increments and go with what feels right for you. Ensure to always read the label. Follow the directions for use. Where dietary intake is inadequate, minerals and vitamins can only be used as an aid.
Store below 30°C in a cool, dry place away from sunlight.
Do not use if the seal on cap/lid has been broken.
Individual results may vary.
What makes mbK unique?
The unique selection of Mystery Bay Kelp, herbs and spices work together to supply extensive support. Each ingredient has known health benefits to assist the body in reaching its full potential. 
ALL OUR PRODUCTS ARE:
Non-GMO, vegan, paleo, 100% natural, gluten-free, dairy-free, no additives, no preservatives or anything artificial.
SUSTAINABLY SOURCED:
We source all of our ingredients locally from Australia. We sustainably hand select the freshest kelp from the pristine waters of Mystery Bay on the Far South Coast of NSW, Australia. The kelp has naturally broken from their holdfast and washed in close to the shore. The kelp is washed in the ocean and then transported to our manufacturing facility to dry in the sun naturally. This process precludes the use of any chemicals or dyes. 
We then process the kelp to a fine granule suitable for cooking, juicing, baking, or sprinkled onto any food. All of our herbs and spices are selectively sourced from local Australian organic growers. All herbs and spices are then processed by hand from scratch. We are proud to support Australian producers with their incredible high quality produce, which delivers intense aromas and flavors. 
QUALITY:
Each ingredient in our products is carefully chosen with significant care. Scientific research and traditional information supports each ingredient. We have obtained third party laboratory test to confirm the purity and effectiveness of our foundational ingredient, kelp, to provide the highest quality. 
Benefits
The research behind our ingredients.
There are around 35 macronutrients and micronutrients contained in Mystery Bay Kelp ("mbK"). The following macronutrients and micronutrients are listed below (but not limited to) are found in mbK in approx. quantities:
IODINE: Micronutrient. Content in mbK: 1.50 mg/gm
Maintains and supports healthy thyroid gland function.
Maintains and supports a healthy brain function.
Maintains and supports mental health function.
Maintains and supports normal growth and development of the body.
Maintains and supports energy production, levels, metabolism, and body weight.
CALCIUM: Macronutrient. Content in mbK: 14.75 mcg/gm
Maintains and supports for bone formation
Maintains and supports muscle contractions
Maintains and supports hormonal health
Maintains and supports nerve function
Aids and assists with menopause problems
Aids and assists with high pressure problems
MAGNESIUM: Macronutrient. Content in mbK: 7.66 mcg/gm
Helps to build and strengthen bones
Maintains and supports nerve function
Essential to production of energy from food
Maintains and supports a steady heart rhythm
Maintains and supports immune system
Regulates blood sugar and blood pressure
Aids and assists with digestion activities
POTASSIUM: Macronutrient. Content in mbK: 79 mcg/gm
Maintains and supports normal blood pressure
Aids and assists with regulating fluid level
Helps transmit electrical pulses to allow for proper nerve and muscle function including heart function
Maintains and supports strong healthy bones
SODIUM: Macronutrient. Content in mbK: 40 mcg/gm
Provides the electrolytic battery that pumps nutrients in and out of each cell
Absorbs toxic metals from the intestines
Maintains and supports regular bowel movements
SULFUR: Macronutrient. Content in mbK: 9.7 mcg/gm
Stimulates the pituitary gland
Maintains and supports the creation of protein for cells, tissues, hormones, enzymes and antibodies
Maintains and supports insulin production
Maintains and supports carbohydrate metabolism
Relieves pain, stiffness, and muscles soreness
Alleviates allergies
Maintains and supports clear skin
Maintains and supports glossy hair
Anti-parasitic
PHOSPHOROUS: Macronutrient. Content in mbK: 1.31 mcg/gm
Maintains and supports strong healthy bones
Maintains and supports the structural role in nucleic acids and cell membranes
Aids and assists the body's energy production
Balances hormones
Maintains and supports metabolism
BORON: Micronutrient. Content in mbK: 0.13 mcg/gm
Researchers have found it helps the bones use calcium
Increased boron levels in the soil have been associated with a lower risk of osteoarthritis
SILICON: Micronutrient. Content in mbK: 1.5g mcg/gm.
Maintains and supports heathy skin
Maintains and supports flexible joints
Promotes firmness and strength in the tissues
MANGANESE: Micronutrient. Content in mbK: 0.25 mcg/gm
Maintains and supports the formation of bones, connective tissues, blood-clotting factors and sex hormones
Maintains and supports fat and carbohydrate metabolism
Maintains and supports calcium absorption
Aids and assists blood sugar regulation
Maintains and supports brain function
Maintains and supports nerve function
This bundle also includes the following ingredient(s):
CHILLI:
Maintains and supports metabolism
Maintains and supports a healthy immune system
Maintains and supports cholesterol levels
Maintains and supports energy production and levels
Aids and assists with regulating fluid level
Antioxidant which decrease free radicals
GARLIC:
Maintains and supports a healthy immune system
Aids and assists with high blood pressure levels
Helps reduce the risk of heart disease
Antioxidant which decrease free radicals
TURMERIC:
Antioxidant which decrease free radicals
Helps reduce free radical damage to body cells
Aid in digestive discomfort
Improve bile secretion and flow
Choleretic to promote bile flow from liver
BLACK PEPPER:
Antioxidant which decrease free radicals
Reduce inflammation in the body
Maintains and supports brain function, blood sugar metabolism, cholesterol levels, gut health
Meet the growers
CHILLI FROM NAT ASHKENAZI
This lovely lady is Nat who Lee-Anne originally met at their local Tilba Market. Nat grows these little beauties at the base of #najanuga, right here in the Tilba valley using organic principles and the flavour is a testament to this.
The rich and robust flavour of the Aji Amarillo chilli takes any dish needing a good hit of warmth and flavour to another level and quickly rose in popularity among mbK customers!
The Aji is a Peruvian strain of chilli that really packs a punch backed up with capsicum notes on the palate, rich and warm. They say this is "the chilli of the sun" & they got that right.
Nat is not only a terrific chilli grower, she is also an amazing handmade jewellery artist and creates a fantastic range of beautiful soaps using the kelp that mbK do not use, ensuring everything from the mbK harvests go to good use!
Visit Nat's Instagram @one_mile_smile_creations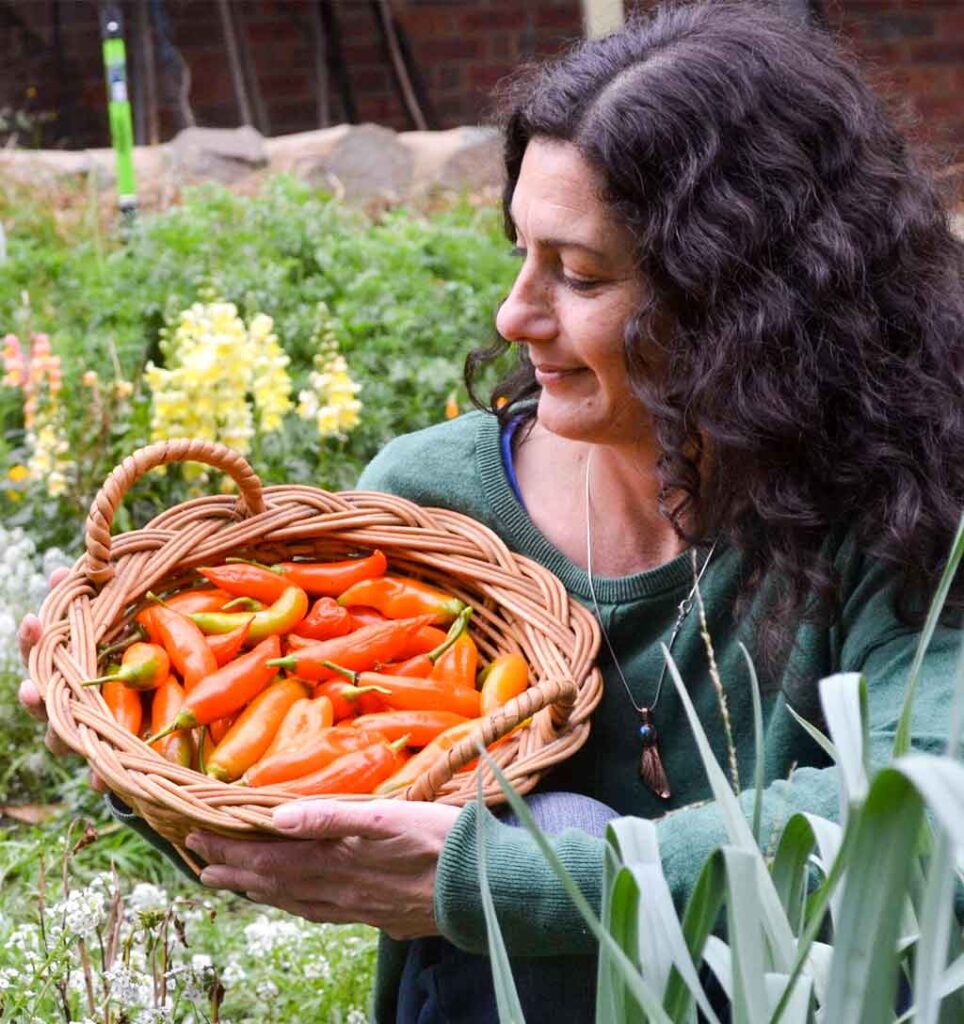 GARLIC FROM WEYHILL FARM
"Our first ever farmers' market was at Churchill Island. An idyllic setting. We took our 1978 F100 truck full of garlic, and we were full of optimism. We sold out and thought this might actually work.
Fast forward to today and we are so thrilled to have customers in Kalgoorlie, Burnie, Townsville and all over the country. We started making a range of garlic salts and granules as a way to preserve our garlic. My grandparents came from the Ukraine and used to preserve food in salt, so we experimented with a range of garlic salts using herbs and ingredients we grow, and then tested them out on our farmers' market customers. They were a hit."
Visit their website at https://weyhillfarm.com.au
Weyhill Farm
– Stuart & Julie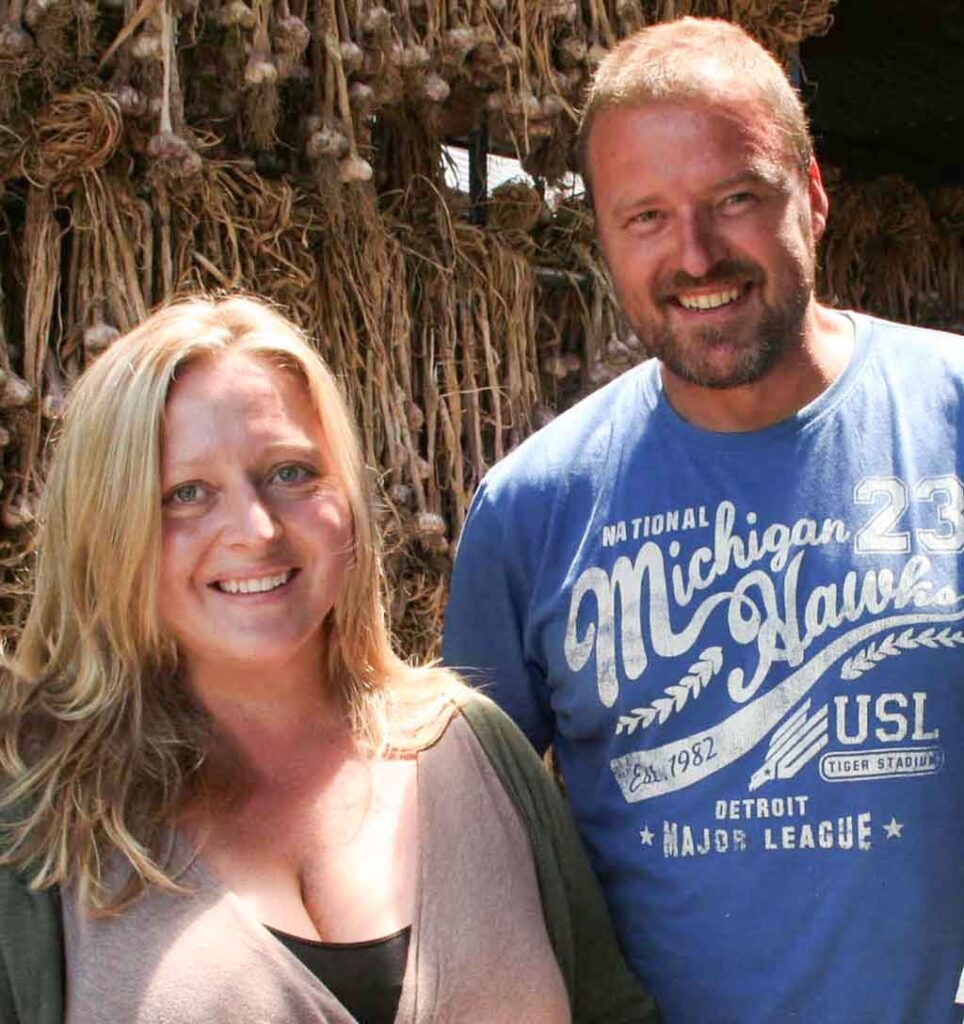 TURMERIC FROM MARGOT FITCHET
"I grew up at Wallaga Lake and moved to the farm at Cadgee 40 years ago. We have always grown our own food and medicinal plants. Turmeric started to become popular and we grew very strong healthy plants, people kept asking me for it so we began selling it about 10 years ago. Our season is from June till about October".
Contact Margot at m.bruinsma@skymesh.com.au or phone 02 4473 5366.