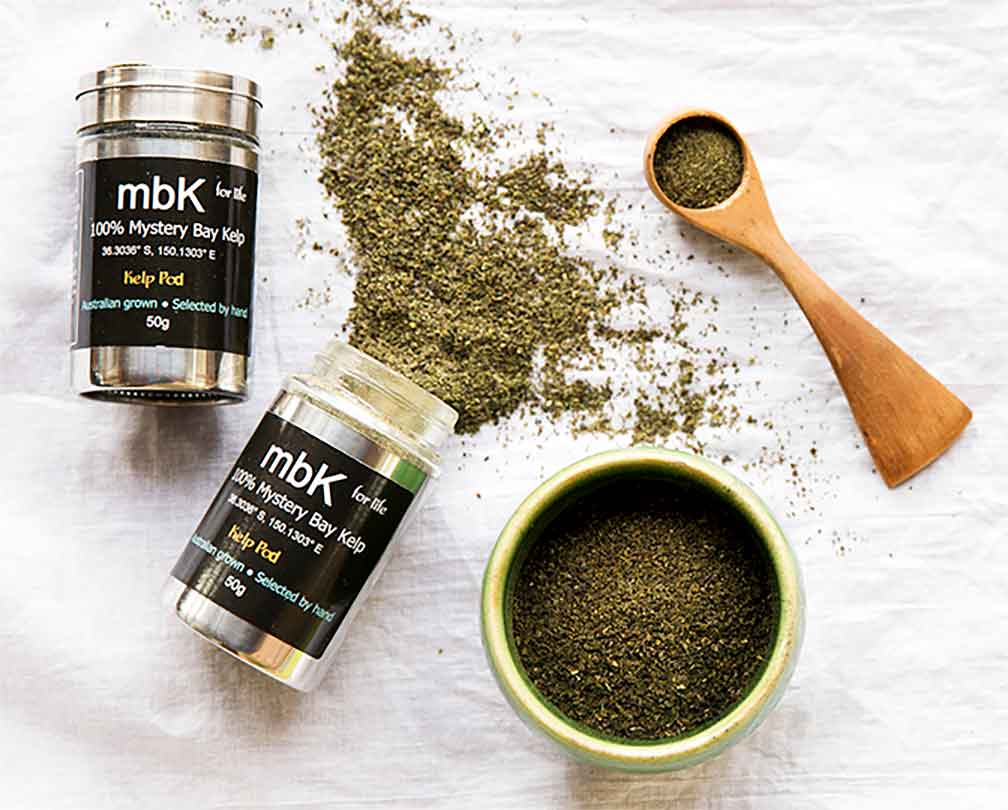 Check out Eat Drink Coast.'s Facebook post about mbK – click here.
Lee-Anne Eddie is a passionate advocate of kelp as a dietary booster – and not just because she hand-harvests, processes and sells natural kelp food seasonings under her MbK For Life (Mystery Bay Kelp) brand.
Her education on the benefits of kelp came through a personal health challenge when she was diagnosed with thyroid dysfunction.
"I learned all about the benefits of seaweed in the diet, as a fantastic source of natural iodine," says Lee-Anne.
"I also realised a whole other world of health benefits could be achieved, including improved gut health and digestion as well as Fucoidan, a compound extracted out of kelp seaweed and being used in oestrogen-based cancer treatments.
"It really is a superfood from the sea."
Lee-Anne was determined to bring such health benefits to the mainstream, and so started mbK for life at the picture-perfect Mystery Bay, 20km south of Narooma.
"Our flavours truly are amazing and we get so much surprised feedback on how good our seasoning blends taste," says Lee-Anne.
It's a busy life, harvesting kelp seaweed that has broken away from its holdfast and washed ashore, under licence from the Department of Primary Industries.
Then there's the processing, packing and national distribution, yet Lee-Anne somehow finds time to run harvesting tours on-site.
"All I've wanted to do is put some love back into the food chain," she says.
"If you have a vision and it sits right with you, then go for it."